Hello Readers!
In the past on this blog, I have done posts on 5 things that make me happy.  I want to continue to focus on things to be thankful for, but to try to do it on a more regular basis.  On that topic I have been thinking of doing regular posts on Thursdays called… wait for it… "Thankful on Thursdays."  This can be things that I am truly thankful for or maybe some weeks it might be a bit less serious, and just be things that make me feel happy.
This week I am feeling good about boots that work with my calf size. 🙂  You might be thinking that boot calf size is nothing to be thankful for, but God has gifted me with very generous calves, and I am trying to embrace those babies.  These boots make me feel better about myself, that maybe I am not a total freak of nature. 😉  I feel thankful for designers who take all women into consideration when they make a boot.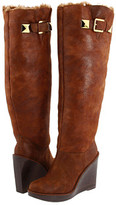 Image is from
here
. 
This is the Michel Kors "Calista."  It is super comfy and warm, as it is lined with faux fur.  I like that this design can be dressed up, but it is also casual enough for every day.  I like it best with skinny jeans or a casual skirt.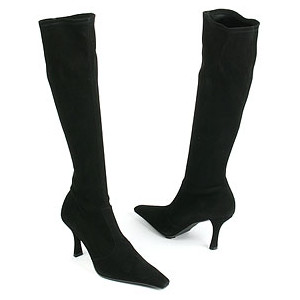 Image is from
here
.
 This is the Stuart Weitzman "Bootiful."  This amazing boot is made of stretchy suede and fits nicely over many sizes of calf.  I own it in black and red because it is such a useful boot.  Due to the sleek design however, this boot is not good over pants, but is fantastic with all kinds of dresses and skirts.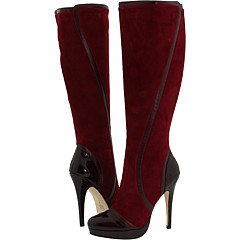 Image is from
here
.
This is the Charles David "Curve."  This boot does fit over my calf, but I do admit, it is the tightest fit I own.  Sometimes a girl just has to suffer through a little calf-hug all day in order to get into such a fabulous boot.
So there it is.  Boots.  They make me happy just looking at them here, and even more so when they are on my calf-ishly gifted legs.
Thanks for visiting!