Here is my 42nd pair of shoes saved in Shoeperwoman's Shoe Challenge.  To learn more about her site and the Shoe Challenge, click on the link below.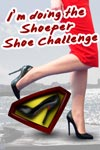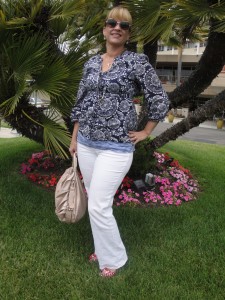 I wore this outfit to a piano/organ recital for the boys.  It's too bad the shoes are not super visible here, because I was sinking into the grass.  That must be the reason I look like I just swallowed a frog.  "Help, I'm tipping over!"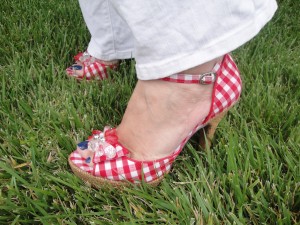 I was prompted to look for a shoe like this after reading a blog post by Shoeperwoman, that really caught my eye.  That post can be found here.   Her shoes are a wedge by Schuh and are really cute too.  When I went hunting for that style of shoe, this is the one I found.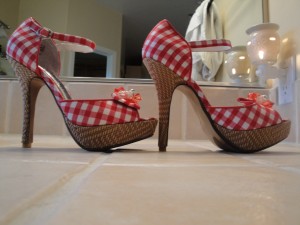 I found my version at DSW.  You can see them here.  Despite the towering heel (which I love!) these shoes are quite comfortable and easy to wear.  I am especially fond of the plastic "jewels" on the toes.