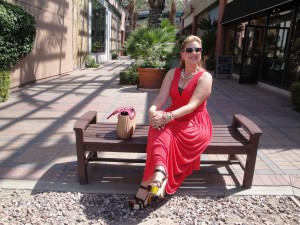 Did we really decide to go to Palm Desert in August??  Woo whee, it was HOT!  However, it was another experience where I learned that I do really love my shoes.  We walked for about two miles in the 106 degree heat to do some window shopping.  I wanted to check out the stores in the area, and the only way to do it, was to walk.  So we did.  On the up side… I got no less than 6 different compliments on these shoes.  That was really fun.  I love days like that!
The shoes:  Miu Miu from several years ago.  Not sure of the style.
To see more Shoe Challenge entries, visit Shoeperwoman's site, here.