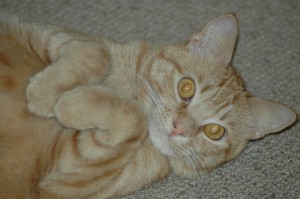 Here's Bing brightening my day again.  I thought I would begin blogging today with his silly face.  I was feeling guilty because it has been so long since I posted last.  We have had such a long and busy weekend.  Both kids went off to have fun at their Youth Gathering.  Steve and I were left at home to figugre out what to do with ourselves.  He was on call, so our plans had to be fluid. 
The best night was Saturday, when we went to the SDSU basketball game.  We rode the trolley so we wouldn't have to deal with the horrors of parking on campus.  Public transportation in our city is neither as useful or appealing as it is in most other cities.  It seems that here, the only people who ride the trolley on a regular basis are either too young to drive, or unable to obtain their own transportation.  Now, those things on their own are not bad, it's just that when I ride the trolley, I always seem to end up feeling sad about everyone around me.  I see the groups of YOUNG teen aged girls riding all alone.  They appeared to be about twelve or thirteen.  Where were they going on a Saturday night with no adult?  And why do they have to dress in such a scant manner?  I also see groups of hard workers looking tired to the point of exhaustion, slumped against the windows next to their seats.  Then there are the drunk and drugged out kids.  Most of them were well behaved on Saturday, but I have to worry about their safety and health as well as how they might behave and affect my ride.
Well.. I guess this post turned out to be about the trolley ride, more that what we did.  🙂  We did have a great time at the game, and then had a wonderful dinner at the Cheesecake Factory.  I was slightly sad that I was unable to wear good shoes due to the fact that I knew we would be walking miles, and we did!