While I have been busy Not-Blogging recently, I have been very busy being a wife and mom, or Mother, as the case may be.  On one of those days, not too long ago, I was feeling "Mad At The World."  Even after 17 years of marriage, I was having one of those "They Don't Have Any Idea What I Do All Day!!!" days.  I decided to stick it to my family, and write down EVERYTHING I did that day, just to show them.  I did, and it was indeed a long list.  Two pages in fact.  Here is where the story gets a little funny, in my eyes anyway.  I showed the list to The Husband at the end of the day, not sure quite how he would respond.  Of course, because he is my very own unique The Husband, he loved The List.  He said it was fun to know all about what I was doing while he was slaving away at his job all day.  Hmmm.  Ok.  Now what?
As it happened, a habit was formed that day.
I now have been "jotting" down all the things that I accomplish during the day while alone in the world, being Mother In Heels.  It has now evolved to being put into my journal, as a kind of keep sake of tasks accomplished.
Today, I thought I would share it with the blog.  Enjoy.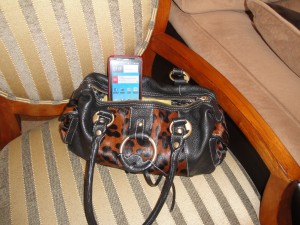 The day begins at 5:30 am, as on most school days, we get up that early to make it to Big Brother's bus at 6:45.  This is just a picture of my bag dropped in the chair when I return home to "get to work."
While we were out this morning, Little Brother and I worked on homework, and got his service hours paper signed by the proper teacher.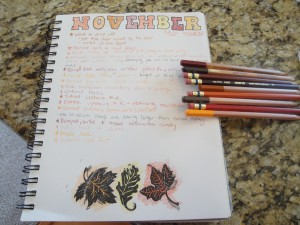 This is today's journal page, with The List, so far.
1. Painted nails (which would haunt me later,) and read blogs.  (I don't want to rush into anything here.)
2. Quick tidy of upstairs living room, entryway and closet hall.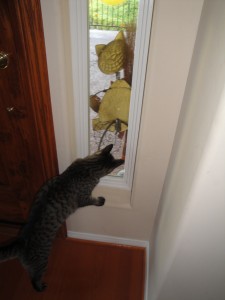 3.  Removed Halloween window clings, and tried to keep Fred from eating them.  (Was a bit annoyed that this job was the beginning of the "undoing" of my newly painted nails.)
4. Cleaned front entryway glass inside and out.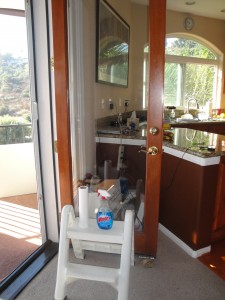 5. Cleaned glass on family room window doors.
6. Watched cats enjoy the Great Out of Doors.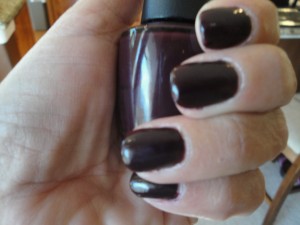 7. Noticed how bad nails were looking.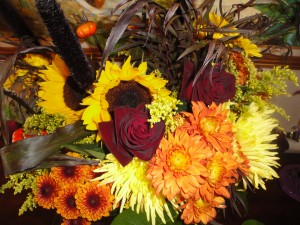 8. Watered flowers.
9. Dusted all upstairs wood.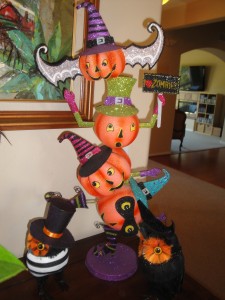 10. Took cute Halloween decorations down to garage.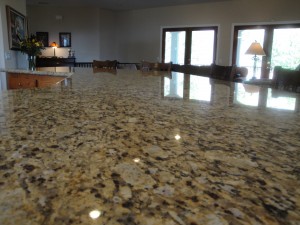 11. Put away everyone's junk and cleaned off kitchen counter.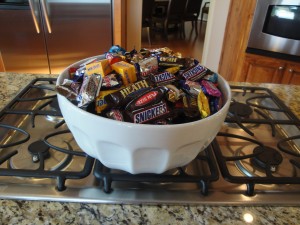 12. Sorted and tossed candy, and kept a big bowl of The Good Stuff.
13. Made the bed, and removed cat fur.  The removal of cat fur occurs about two or three times a week here, as you can see why…
It is now 12 noon, and things are coming along, but moving a bit slower than I expected.  I have stopped for lunch and a little blogging, but will continue in a bit.
14. Dishes: 2 loads
 15. Laundry: W= 1  D= 1 F= 1 P.A.= 1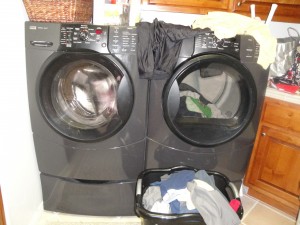 16. Put away outdoor Halloween decorations.
17. Can't find Bing.
18. Find Bing in Little Brother's bed.
Getting ready to pick up kids from school, will continue post later.