Nail Shop Review – Happy Nails and Spa, Fashion Valley Mall
Today's salon review:
Happy Nails & Spa
Fashion Valley
7007 Friars Road, Ste 208 SD, Ca 619-260-1764 www.happynails.com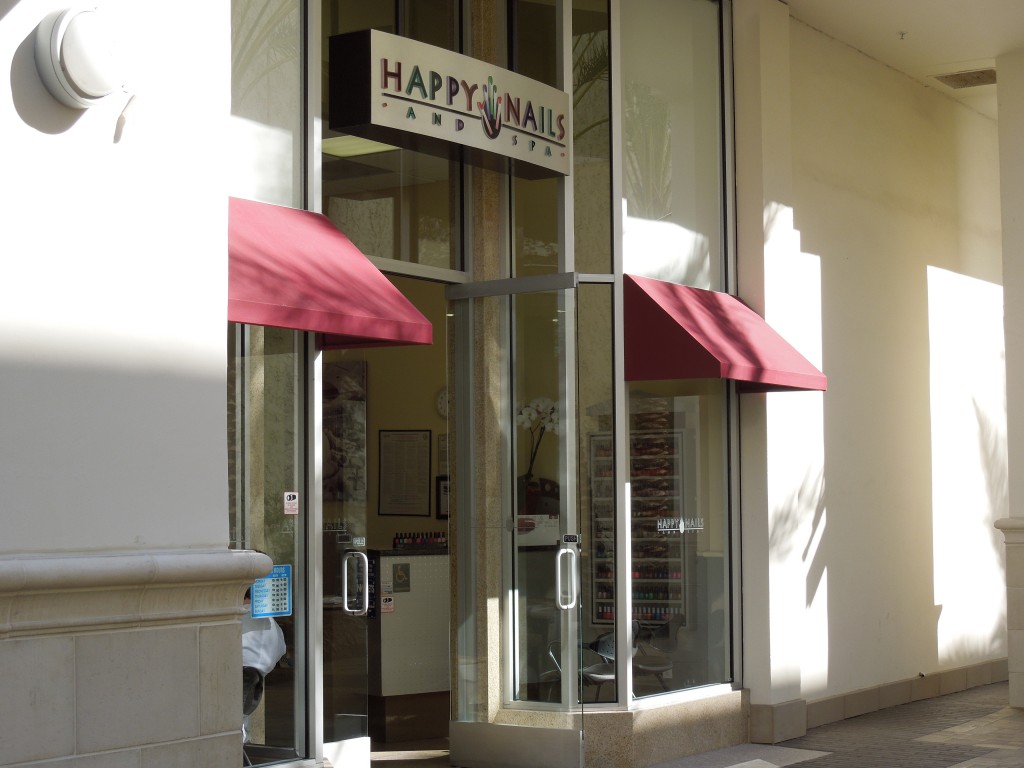 Environment:
From all outward appearances this shop seemed clean and tidy.   There was no music or television playing when I arrived.  I might have enjoyed some type of music in the background, as I tend to like some quiet noise to help me relax.  There were at least 15 spa chairs that were all nice and in good condition.  I came during the day on a Tuesday, and did not have to wait at all.  They have a nice, but not awesome collection of polishes.
Fill:
I didn't get names at this shop, so I can not tell you who I had.  He was a guy, and honestly, not very friendly.  He did an average job with my fill.  The thickness was good, not too thin or thick.  He was a bit rough, though, and did not offer me any lotion or cuticle oil when he finished, which you will see in my photos.  Also, it has been about five days now, and my fill is starting to lift and chip. 🙁
Pedicure:
Again, I did not get a name of my pedicurist today.  I felt uncomfortable asking for names in this shop.  I got the "Indulge Me Pedi."  The products they used were nice.  I liked the smells, and the lotion felt good.  The massage was adequate, and there was no callus removal offered.
Prices:
The fill was $18, which seems to be about average.  The pedicures run from about $22 to $48, again, their prices seem to be on par with other shops of this type in town.
Timing:
They finished my fill and pedicure in about 35 minutes.  You can decide on your own how you feel about that.  On one hand, if you are   hurry, this shop is the place for you!  If you want to sit and relax for a while…maybe not.  I have not used a shop in a mall before, and maybe it is their norm to finish quickly.  Possibly shoppers are mostly in a hurry…
Photos:
Look how dry my cuticles are, immediately after leaving the shop.  Yuck!
Overall Rating:
3 out of 5 Little Piggies