Inspiration Monday – Pippa Middleton
I have finally returned to Inspiration Monday!  The super cute blog, TwoBirds sponsors this weekly challenge, and I always enjoy reading the posts, as well as occasionally joining in the fun. Click on the link here to visit their site.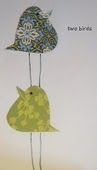 Our inspiration this week was the lovely young lady, Pippa Middleton.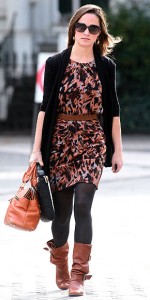 What caught my attention with her outfit was the use of black and brown together.  I love the color combination of black and brown.
When I went into The Closet to choose my outfit, I decide to focus on those two colors, rather than the cute print dress or the adorable brown boots she is wearing.  (The boots, which I will be doing a Google search on immediately following the completion of this post…)
I enjoy how my look turned out.  I needed the boots and cardigan yesterday because our weather was quite chilly all day.  I even managed to carry two bags around all day, like Pippa. 😉
I can't wait to check out what you all wore!
Thanks for stopping by!