Nail Shop Review – The ProfessioNails La Mesa
This is my very first nail shop review, and I am super excited!
I have been thinking of  doing local nail salon reviews in the San Diego area for some time now, and I guess that today is finally the day.  I will be looking at many aspects of each shop, and attempting to give a fair review of what I find.  My usual services are a spa pedicure, and an acrylic fill.  Those two services usually provide me with enough information to form an opinion about a salon on the first (or maybe second) visit.
Today's shop:
The ProfessioNails
7900 El Cajon Blvd. Ste J in La Mesa 619-461-0061
They have a Facebook page (ProfessioNails La Mesa), but not a website.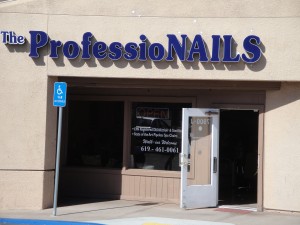 Appearance and Atmosphere:
When I first entered, I was greeted right away.  The shop was cute, and appeared very clean.  There was a TV on the wall, but it wasn't turned on, which I prefer.  There was no music playing, so I can't say if it was too loud or too quiet.
Shop Set Up:
When you arrive, there is a sign-up sheet on the counter.  I liked this, because it removes all confusion about what order customers came in, and what they want to have done.  This shop also has a menu of services, which is something I greatly enjoy.  This allows me to look over what they have to offer and decide how much I want to spend. 
Pedicure:
Today my pedicure was performed by Mike.  I chose the European Pedicure for $30.  This was not the least or the most expensive pedicure.  The spa treatments started at about $22.  Mike did a pretty good job.  He was friendly and efficient, but there were a few disappointments along the way.  The callus removal did very little actual removing.  This is important to me, due to the fact that I run around barefoot often, and have a fair amount of callus on my feet.  Also, I like a strong massage, and Mike was a bit gentle for my taste.  If you like a soft massage, he would be perfect for you.  He did however, do a great job with the rest of the pedi.  The polish itself looks fantastic.
Acrylic Fill:
Today my fill was done by Han. (sp?)  She was amazing!  I am almost sorry that I have just started to do this shop review series, because I think this girl could easily become my regular for fills.  She gave my nails a great shape, and they are very thin.  They almost look like they could pass for natural nails.  I hope they can hold up all week.  I love how thin nails look, but time will tell if my natural roughness will cause them all to break.  I will keep you posted.
Here is the end result:
FYI- The color is "Jem" by Zoya
Final Verdict:  Four out of Five "Little Piggies."

If you live in the San Diego area and have a nail salon you love, let me know, and maybe I can give it a review.