A Day In My Life – Summer Edition
So, I have seen a few posts recently that have inspired me.  Since I am new to the blogging world, I was unaware that there are people who like to post snapshots of their days.  Even though it may seem boring to some, I really enjoy seeing what different people do all over the world on an average day.  I have been willing to try this new genre, and I am starting with a pretty regular day for me.  I hope you can find the fun in this post, even if it may seem a bit like my personal journal, which it is. 🙂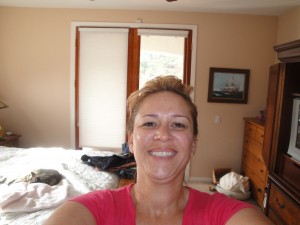 Good morning world!  It's about 7:30 am and I look, well, not quite hideous.  Clearly though, I am ready to stay in the house for a while, before I clean up.  I have a few chores to do this morning.  Steve has gone off to work, and the kids are not up yet.  Nice!  Time for some kitty love!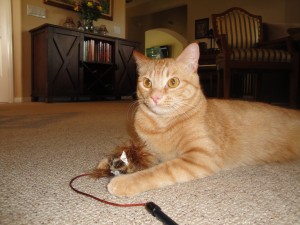 Bing was feeling playful this morning, so we spent some quality time chasing his ball of feathers toy.  I love when the cats want to play.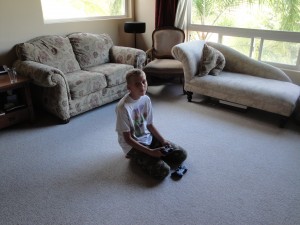 At around 8:30 Little Brother crawled upstairs to wake up with his favorite video game.  Summer is so wonderful because there are less restrictions on how much time they are allowed to rot their brains in front of The Magic Box. 😉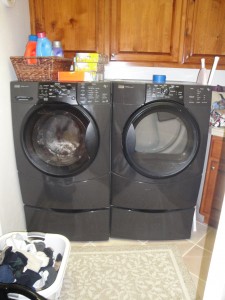 This is my laundry room.     I usually spend quite a lot of time in this room and today was no exception, as I did about four loads today.  I won't bore you with the picture more than just this once, but I was in there many times.  You know, I actually like doing the laundry… it's the folding, and worse, the putting away that makes me feel a bit on the grumpy side.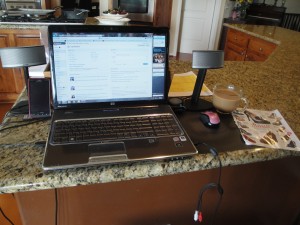 Next up was time at the computer.  I am usually on and off the computer throughout the day.  It works best for me to fit it in between other tasks.  I have my coffee, and more important, is a sheet torn out of a magazine, with shoes that I want to look up.  It's the heeled loafers trend.  I think I might just have to participate in that look.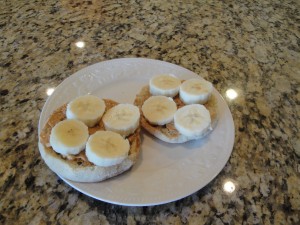 Breakfast.  I hope this doesn't seem odd… but I do love me some peanut butter.  I put the bananas on there just to add in a serving of fruit.   Mmmm.  Healthy and delicious.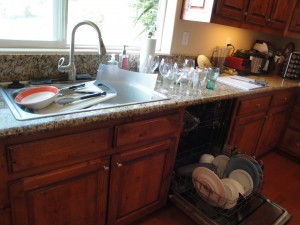 Ugh!  I have to do the dishes left over from book club that came over last night.  We sure had a good time though, as usual.
Now it was time for me to have a bit of fun and to thoroughly irritate Ginger.  "Move kitty!  I have to make the bed!"  The big lint roller usually is enough to get her to jump down for just a bit while I remove her piles of fur and fix the covers.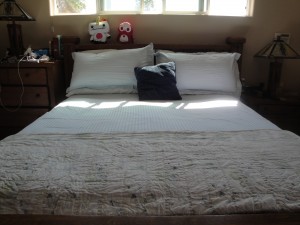 There, that looks better.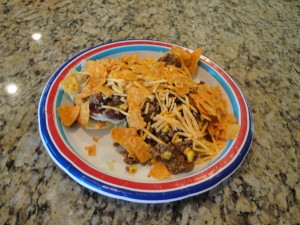 By now, Big Brother had gotten up and played his games, and the natives were calling for their lunch.  Today was taco on a plate.  It was yummy, but clearly not as healthy as breakfast.  Oh well.  A girl can't win them all. 😉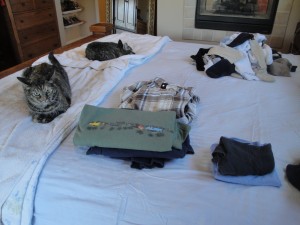 I think it is about one in the afternoon now, and the cats did their best to help me with the laundry.  I am glad I thought to put their towels down after I made the bed.  That means less fur to clean tomorrow.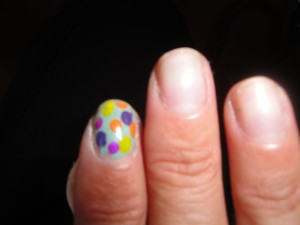 I decided it was time to remove my attempt at a polka dot mani.  I liked how it looked, but I was not super fond of the base color I chose.  Next time I think I will try it with white or yellow as the background.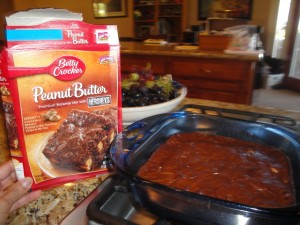 Earlier in the day, I had spent a bit of time on the phone with my girlfriend, whose house we would be visiting later in the day.  While talking to her I had offered to bring dessert, and thus, here I am making brownies.  Yum!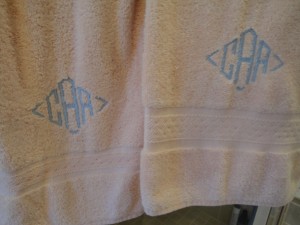 Now it's about three pm and I am beautifying.  I needed it by then.
At about 3:45, The Husband came home and took these pictures for me, and we all packed up and headed to our friend's house for dinner and a pool party.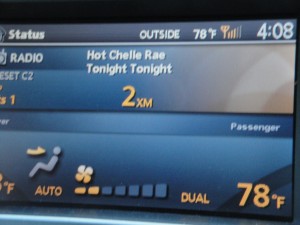 I love this picture.  A lovely San Diego evening with balmy 78 degrees and listening to some fun tunes on the radio.  Lovely.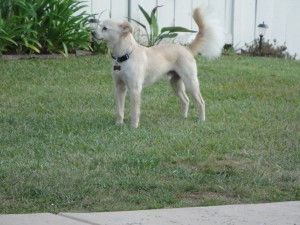 This is our friend's dog.  He was so cute, but was a bit shy, so we all had fun trying to get him to be comfortable with all of us.
This is what happens when you are 14 and 6'1″.  Just keep hoping to fit in that car, Big Brother.  This picture really shows who he is… sweet.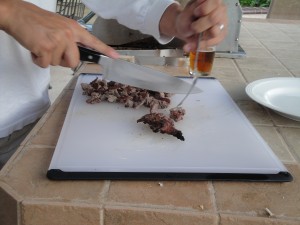 Yum.  Our dear friend, as host, cut the carne asada, and we are ready to eat.  The rest of the night was filled with good food, delicious Chardonnay and great conversation.  It was a wonderful end to a Day in My Life.