5 things That Make Me Happy – Coffee Edition
 Pictures left and the two below from Starbucks site.
1.  I just have to go ahead and get this out the the way, first thing.  I love Starbucks.  There, I said it.  I know they are a super huge, non personal company, but I just love their coffee.  I adore that anywhere I go (even in Puerta Vallarta) I can walk in to a store and get my usual order JUST the way I like it.  I never have to wonder if it will taste the way I want.  It just does.

As part of number 1, I also love my Starbucks Reward card.  I love getting free drinks!  Free is good, and they are super cool about it.  You just give them your postcard, and any drink in any size is free.  Yay!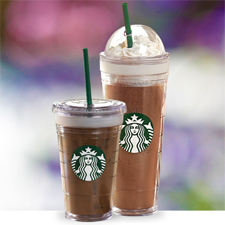 2.  I am also a huge fan of the cold beverage cups.  I got mine from Starbucks, but it seems they are available all over these days.  They make great iced coffee holders for about 3:30 in the afternoon.  The best use for them, in my house though… they keep kitties from drinking my water that sits next to the bed at night.  Kitties LOVE to drink iced water from people glasses, and they can't seem to get their paws around my lidded cup.
3.  These are my current FAVORITE cups to use at home.  If you are not able to read them, the first one say,s "stop me before I volunteer again" and the second one says, "funny… I don't recall asking for your opinion."  I love that they make me smile while I have my morning cup.
4.  My new Keurig coffee maker.  LOVE it.  I especially love that the water is lit by a soothing blue light.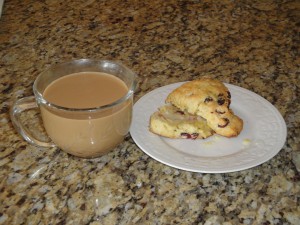 5.  Finally, a perfect cup made at home, with a scone to go.  Delicious.