New Nails and Some Older Nail Designs -FBFF August 12
These are some nail designs I have worn recently, as I participate in the Fashion Beauty Friend Friday group, hosted this week by the blog Thrifty and Shameless.
I am so excited about this first look, but it really would not photograph well for me at all.  I will show you what I did get, despite my fight with the camera.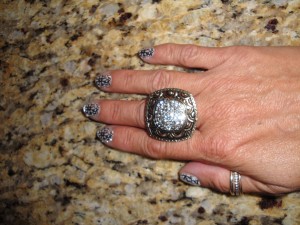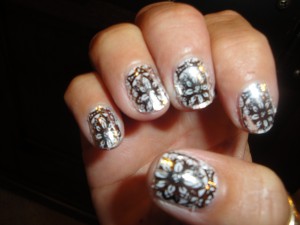 The thing is… these nails look like polished chrome.  Really!  They are so shiny that the camera couldn't stop reflecting their glimmer.  And, I must say this again, they look so much better In Real Life!  😉
They are nail "stickers."  I found them at Sephora.  Their official name is Chic Prints For Nails.  They are not too difficult to apply, but it does take a bit of practice.
These were in a recent post, but I thought they deserved a second look. 🙂  I like the silver crackle very much.
Finally, here are two other colors I have been wearing often lately. 
I can't wait to see what everyone else is doing.