Inspiration Monday – July 25 Heidi Klum
Good Morning!  This is my first Inspiration Monday in quite a while.  I have been missing the challenges over at the cute Two Birds blog.   If you would like to check out this challenge and their site, just click on the link above or the picture below.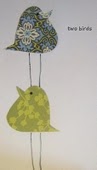 This week's challenge was really fun, for several reasons.  Heidi Klum!  What an adorable celebrity to emulate.  Here is the inspiration photo.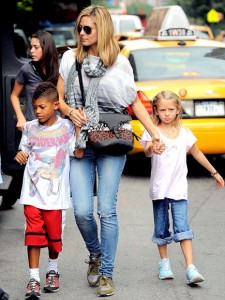 And now…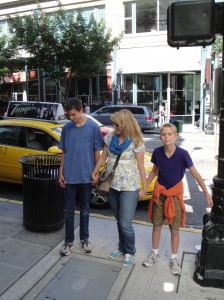 We had such a fun time getting this photo!  Little Brother even tried to pose with his arm out to the side like the inspiration picture.  We were in Seattle near Pike's Market, and were quite surprised at how difficult it was to find a taxi.  Finally, on the way back to the car, we passed one sitting on our side of the street.
The best part of this challenge was how super easy the look was to put together.  I love when celebrities wear "real" outfits.  Heidi seems like so much fun.  She can be super glamorous, but also is such a mom.  This is the kind of outfit I wear all the time when I am being the "Mother" without my heels.  🙂