Shoe Challenge #43 – Dolce & Gabbana at The Red Pearl Kitchen
This is Shoe Challenge #43 from Shoeperwoman's challenge.
The other evening we went out to dinner at the Red Pearl Kitchen.  What a great place!  If you live in or visit San Diego, I highly recommend this place, especially the signature cocktail called "The Jade Mistress."  Spicy, apple-y delicious!  Plus, you can sit in and have your picture taken in this awesome chair!  What fun.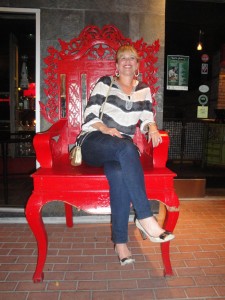 I LOVE this chair!  It was so fun to climb up and have my feet dangle in the air, like being a kid again.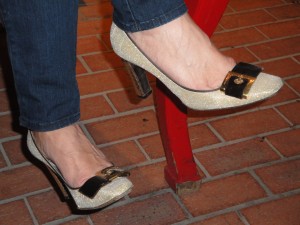 The shoes: Dolce & Gabbana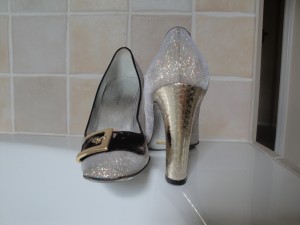 The buckle strap is made of brown velvet, the heel is gold "snake skin," and the entire shoe glitters.  As Rachel Ray would say, "Yum-O!"