FBFF May 13 – Outside Influences
Here is my FBFF post for May 13.  (I am a day late.)
This is hosted by the great ModlyChic site.  Stop by over there to see many other blogger's answers to these questions.
May 13: Outside influences… a couple weeks ago we talked about our
inspiration when it comes to blogging and so many people said that
other fashion bloggers are a huge inspiration. But there are many
other factors that influence us.

1.      What magazines do you subscribe to?
As is the case with many other bloggers and friends who are slightly fashion obsessed, I subscribe to MANY magazines.  I love to sit for hours and go through magazines, tearing out pages that give me inspiration.  My top two favorites have to be InStyle
 and People Style Watch.
InStyle always seems to have the best tips about how to actually use items you have on hand.  I love when take an item and show how to style it several different ways.
2.      Do you watch any fashion TV shows?
Why does it feel silly to admit the answer to this question?  🙂  Yes, I watch What Not To Wear, Fashion Police and Project Runway, all as often as I can.  I think my current favorite is Fashion Police.  Joan Rivers is a comedic genius.
 Image from here.  Visit E!online for more Fashion Police.
3.      Beyond blogs, what websites do you frequent for fashion
inspiration?
This is similar to what I have said above.  I go to magazine sites most often.  I also visit sites of products I enjoy, like M.A.C. or Chanel.  I also enjoy visiting store sites like Nordstrom and Neiman Marcus.
4.      Advertisements play a huge role in forming public opinion about a
product or brand… what ads do you like and why?
I don't have a great answer for this question.  I do love to look at ads, but I don't seem to have any favorites that stand out in my mind.
5.      Do you own any fashion books?
I do own a few books right now, and I am particularly enjoying one of them.  It is called The One Hundred, by Nina Garcia. Here is the link to Amazon.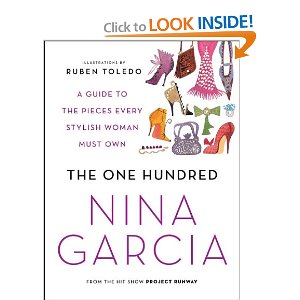 I have really been enjoying this book.  It outlines the top 100 pieces that every stylish woman should own.  Although no one woman  (or maybe only a very few) will own every single item listed in this book, it does give very good suggestions.  Plus, it's fun to read!