Shoe Challenge #38 Charles David Ankle Tie
This is one more shoe challenge from Shoeperwoman's blog.  Visit her site if you have an interest in fabulous shoes.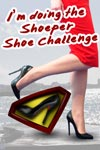 This was my outfit on Tuesday, when I had lunch with The Husband.  I love having to try to wear my shoes more now because of this challenge.  These have been lying dormant in the closet for some time now.  They do have a slight flaw in that they pinch around the big toe slightly.  Not enough to be retired yet, but I will say I was glad to get them off at the end of the day.  The heel height is nice, and I do enjoy an ankle strap.
The shoe: Charles David