How Would You Wear These?
A few days ago, I read a post on the Shoeperwoman blog that really got me thinking.  Here is her post.  She has on the cutest red and white checked shoes.  I have a pair of shoes like that, that I love… and here they are.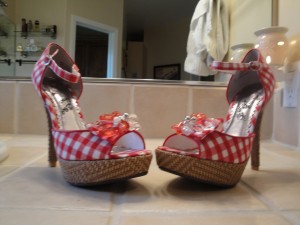 Aren't they cute?  If you would like a pair, you can find them here. 
Now, I do have a few ideas up my sleeve about how I want to wear these, but I am really curious about what others think.  How would you wear them??  Leave me a comment or an email about how you would style these.