FBFF May 6 – Shoes!
Oh boy, oh boy, oh boy!  SHOES!
This week, the topic for FBFF from the blog Modlychic, is about shoes.  I like shoes.  😉  This should be fun.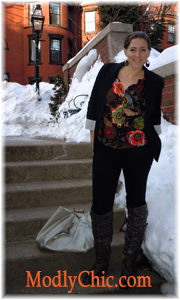 May 6: Shoes….
1.What is your go-to pair of shoes?
Since This Mother is a bit of a shoe collector (it is my "hobby" of choice,)  I have no chance of narrowing this down to a pair of shoes.  However, I believe I can focus on one particular type of shoes.  In this case, I think it would have to be the wedge shoe.  They are so useful for everyday activities as a mom (or anyone else for that matter.)  Here are a few of my favorites.
2. What goes into your shoe buying decisions?
It may seem that a girl with so many shoes may not put much thought into what I buy.  I am sure that it may appear that a certain Mother who wears Heels might just run about willy nilly and buy anything she sees.  Truly, that is not the case.  Every time I buy a pair of shoes, I think of several things. 
1.) Comfort –  Does the shoe fit?  Does it pinch my toes, or anywhere else on my foot?  This is very important to me, because no matter what the shoe costs, if it hurts, I won't wear it (much.) 😉
2.) Cost –  I do actually consider the cost of each pair of shoes.  How often will I wear it?  Will it go with a few different looks?  How long will it last?
3.) Appearance –  How cute is this shoe?  Is it unique?  If it is a basic/staple shoe, is it classic?  Is the color right with my skin-tone?
3. The majority of the shoes in your closet are what color?

Majority???  That is tough to say.  I do not have a majority of anything, but let me just share a photo with you, to show the color that I find often in my shoe collection. 🙂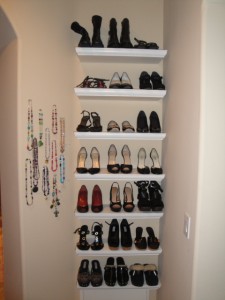 These are most, but not all of my black shoes.
I believe the real answer to this question though, is that I LOVE color.  Most of my shoes are very bright and colorful, in some shape or form.
4. When it comes to design shoes what are your favorite brands and
why?
Well, not to be predictable, but I do love Christian Louboutin.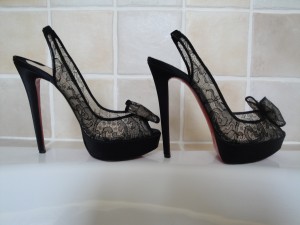 I adore the towering high heels on their shoes.  The designs are feminine and sexy, as well as do great things for the shape of your legs and feet.
This Mother is also a big fan of Miu Miu.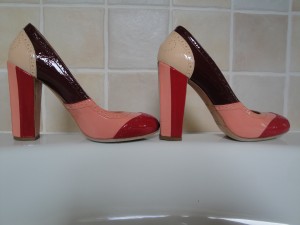 Miu Miu is a playful shoe.  Their designs tend to be unique and creative, and they are who I look to for something a bit off the beaten path.
Currently, I am also really enjoying Jessica Simpson and Steve Madden.
Lovely.
I guess we can all see why this blog is not called "Mother In Flats." 😉
5. If price wasn't an issue, you'd own which shoe?
Hmmm.  I think the Mother has already answered that question through the other answers.