Shoe Challenge #36 – Nude Prada Peep Toe
Here is my 36th pair of shoes from the Shoeper Shoe Challenge.  That fun challenge can be found over at Shoeperwoman's blog.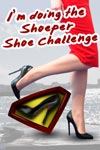 Just the other night, The Husband and I were invited to a Swing Dance party.  I was a bit dubious on a few items.  First, I am not a dancer.  As much as I love fashion and pretty girlie things, I am a total klutz on my feet.  Also, what does one wear to such an event?  I had a few choices hiding in the closet, and this is what I ended up choosing.
This polka dotted number is by maxandcleo.   I believe it was procured from a Macy's some years back.
Ahhh!  And here we have… "Nude Shoe Perfection."  I, like all Spring fashion fiends, have been obsessed with the neutral shoe trend.  I LOVE this look.  I have another pairthat have been posted before that I really like.  These are more than like.  Even with the absence of tan that I currently sport, due to genetics, I have lots of color in my skin.  Therefore, nude shoes can look very pink on me.  These are nice and dark.  For some, maybe too dark.  Not me, baby!  They are made by Prada.  I had seen another Prada shoe almost like this one, but the platform was almost non-existent and thus the heel was much lower.  Not what I had in mind.  Finally these were located by the wonderful Lissa.  Hooray!