Shoe Challenge #35 Railway Museum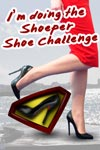 Here is my latest Shoeper Shoe Challenge from Shoeperwoman's wonderful shoe blog. 🙂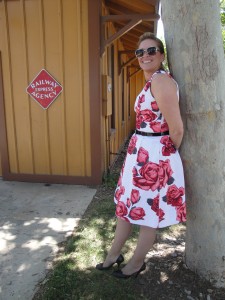 On Sunday, we stopped at a local train "museum."  I am using finger quotes there because it barely qualifies for the title museum.  It is, however, a fun place to visit, especially if you enjoy trains.  In our house, Little Brother LOVES trains.  Consequently, we stop by this location whenever we are able.
It was a gorgeous day weather wise,  so I was very comfortable in a sun dress.  This was the first outing for this dress, and pleasantly, we (the dress and I) received many compliments.  I love when that happens!
Once again, Older Brother suggested the pose for the shot on the left where I am leaning to the side.  He seems to be joining in the fun of these photo opportunities, and I can always use new ideas.
The shoes are Prada from a few (3?) years ago.  They are like little ballet slipper heels.  When I wear them, I am taken right back to being 9 years old and in ballet class.  How fun is that?!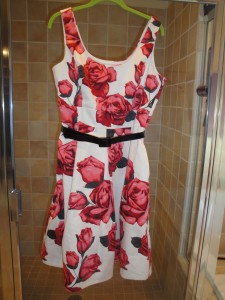 Here is the close-up of yet another dress from White House Black Market.  It seems I did go a little crazy with my shopping spree in that store.  I think the cut of their dresses are just very flattering, and the rose print on this one is lovely.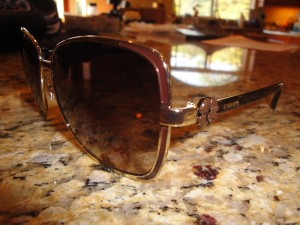 Finally, let me introduce you to My New Sunglasses!
I am a bit of a sun-glass maniac.  I wish I had a different pair for every outfit, or adventure.  I had been looking for a pair of cat eyes, but was coming up empty.  Typically I don't like to buy big name items that are super trendy, so I was a bit nervous about the cat eye look.  While out on the hunt, a super kindly sales girl introduced me to these babies.  They have just a hint of the cat eye shape, but are still classic enough to pass the "should I buy them" test.  They are Chanel, but they label is subtle, which I really enjoy.  To me, I want the look not to scream designer, only to suggest it in gentle ways.  Sorry to ramble on a bit, it must be "new love." 😉