Inspiration Monday – Katie Holmes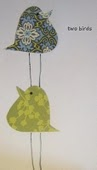 This is a great site!  Click the link below to visit them.
This week the inspiration from the Two Birds blog was Katie Holmes.  I am having so much fun doing their challenge every Monday!  Here is the photo they posted for our interpretation this week.
Mostly, I am a fan of how Katie Holmes dresses.  I think she looks great in this shot.  This ensemble was easy for me to interpret from the items laying hidden in my closet.  The problem for me this week was that I do not currently own a pair of high waisted jeans.  I like this look, and am on the hunt for the perfect pair, but I have not located them yet.  Here is what I ended up wearing.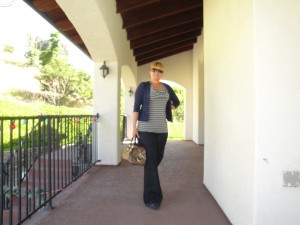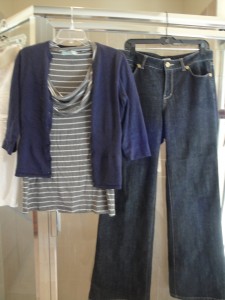 The jeans are from Cache.  The top is Pleione, from Nordstrom, and the cardigan is Kersh Essentials (Costco?)
I like how my look turned out.  This is definitely an outfit I might have put together in my own.  The one thing I think is not realistic for me is that Katie wore flats and let her pants drag on the ground.  I do not enjoy dragging pants. 🙂  I took my shot in my blue suede flats to stay true to the look, but in reality, I probably would wear these wedges with this outfit.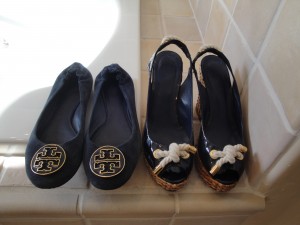 Both the flats and wedges are Tory Burch.  I can't get enough navy blue in my wardrobe, including shoes.