Good Friday – Shoe Challenge #33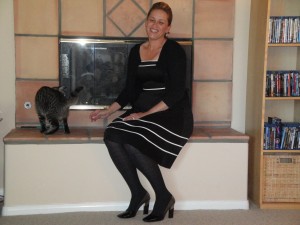 First, I apologize that my eyes are closed in this picture, I think I was laughing at Fred. 🙂
This is the outfit I wore on Good Friday.   We went to church and then to dinner at Island's with friends.  It was a nice night.
The dress is by White House Black Market.  The shoes are Prada.  The tights are Spanx.  The cardigan is from Target.
I have had these for a long time.  I like that they are not just plain black pumps. (Which also have their place, don't get me wrong.)  My favorite thing about wearing these shoes on Friday, was that Older Brother, who is 13, said he liked these shoes.  Generally, he is not a "shoe guy" and doesn't comment much on my footwear.  It was sweet that he noticed, and said something.  What a good boy!
Here is another look at the dress, not covered by the cardigan.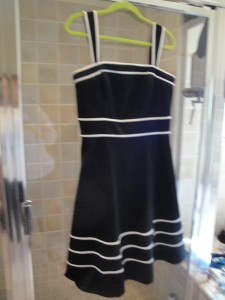 I wish this picture was better, but the sun was coming in the window and causing me troubles. 🙂  It is very flattering because of the placement of the white piping.