Inspiration Monday
This is my second week doing "Inspiration Monday" with the Two Birds blog.
This week our Inspiration was Kim Kardashian.
Not too shabby, if I do say so myself! 😉
I had fun putting this outfit together.  I did have to change it up a little bit, as I did last week with Gwen.  I wasn't willing to show my skivvies like Gwen did.  This week, I felt the need to bare a little bit less leg than Kim was willing to show.  With it being barely into Spring, I have far less color on my legs than she does.  Even with color, I'm not sure that much leg would work on me.  With that said, I like how my look turned out very much.
My shirt and pants are from Old Navy.  The shoes are my Steve Maddens.  The bag is Fiorelli.
Here is another look at the outfit.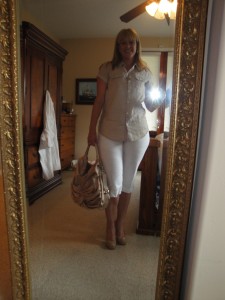 I love this color combo trend for Spring.  I want to wear white and cream and tan as much as I can.  I will be wearing it again with a dress later today, so look for another version of this look in a different blog post soon.
Here are the shoes and bag close-up.