Shoesday Tuesday #1
Shoeperwoman started doing Shoeper Tuesdays where we post a quick picture of our shoes on Tuesdays.  Another fun activity to join.
Well, let's just say I am going to be totally honest with you all today…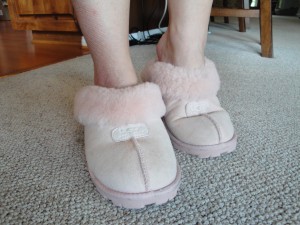 This is what I wore today.  All day.  I had all the best intentions of getting dressed into something cute, but I just didn't.  I stayed in to do laundry all day, which doesn't usually stop me from getting dressed, but today just wasn't meant to be.  Sweats and slippers on the way to drop kids off and on the way to pick kids up, and now for when The Husband comes home for dinner.  (Sorry Honey.) 😉  Well, we can't be fabulous every day, now can we.