5 Things That Make Me Happy
Here is another list of 5 Things That make Me Happy.  I think that the list for today is shaking up to have an Easter theme, and what could be more appropriate. 🙂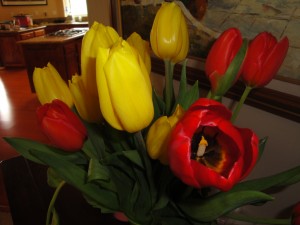 1.  Tulips
Tulips are one of the things I long for most of all in the spring.  They have their short window of life and give their all while they can.  I don't even mind that they offer no smell.  Their delicate petals and vivid colors are all I need.  They are in the vase right now, and sometimes I walk over just to be close to them.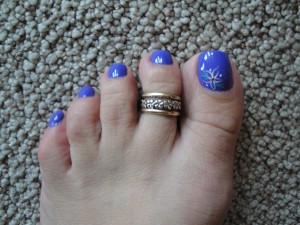 2.  Purple "Easter Egg-ish"  toenail polish color
I love pastel, egg-like colors this time of year.  I don't even know what exact color this is.  I do know that it was not an O.P.I. color, which is unusual for me.  I just saw this in the nail shop yesterday and had to have it.  I see that on my computer the color looks more blue, but in reality it is a pretty lavender.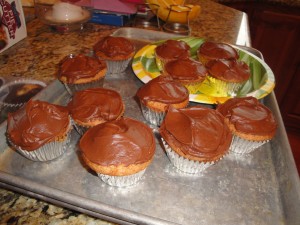 3.  Chocolate Frosting (I guess chocolate just reminds me of Easter.)
I don't want to brag, but I am something of a chocolate frosting specialist.  It's not really of my own doing even.  It is because I live with three chocolate frosting taste testers with lots of opinions.  The recipe I used to use, until this past Sunday was delicious.  It was however, difficult to make.  That recipe was more of a fudge or ganache type.  It had to be cooked on the stove top and then whipped while the bowl sits in an ice bath to cool.  I tried something new (gasps from the 3 boys) this time.  While I was perusing the cookbook, I noticed that this frosting used chocolate syrup.  Yum!  We like chocolate syrup.  Also, no cooking was involved, I was pleased to note.  These cupcakes turned out so delicious.  Every one of my frosting tasters were pleased.  I think they are great too!
4.  A Package from LUSH  (The bath bombs remind me of Easter eggs.)
Hooray!  The box smelled good even before I opened it!  I love products from LUSH.  I order from their website about once a year, because we don't have a store near our home.  Their bath products are super luxurious.  I feel like a princess when I drop one in the bath.  My favorites are the "bubble bars."  I may even write a post about their products soon because I like them so much.
5.  No Picture Here (You all know who you are;) )
My Bible Study Group
It is such a good thing to have a group of people who you can be close to and help support one another.  Twice a month I get to be with such a wonderful group of people.  They bring so much into my life.  They challenge me to make tough decisions and to do what is right, but they also make me laugh so hard I often cry.  I am so thankful for everyone who makes up that group.