Inspiration Monday – My First
I am so excited to do my first "Inspiration Monday" challenge!
This week the inspiration given by the Two Birds website was this photo of Gwen Stefani.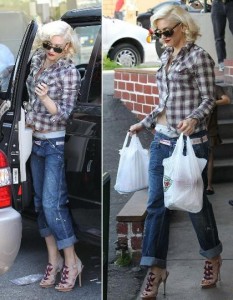 This one was a great start for me.  I think she has such a wonderful sense of style.  I also believe that this look is not impossible to emulate, even if we are all not as absolutely gorgeous as she is! 😉  Here are some pictures of my version of this look.
First, I am sorry that these two pictures are almost identical.  I thought it would be fun to post two pictures together, just like the inspiration, but it looks as if I used the same picture twice. :0)  I need to try to harness my inner rock star a little more.
Back to the outfit.
I wore my American Eagle boyfriend jeans and a shirt by Theory.  I am also wearing shoes by L.A.M.B.  How could I not, with this inspiration?  (By the way, these will also be the pictures used in an upcoming shoe challenge post.)  My glasses are Gucci.
At first I was worried about how this would look on me.  Because I am a curvy girl, I was concerned about tucking in my shirt.  I was unable to wear the shirt un-tucked because of it's length, so I had to belt and tuck.  Now, I am happy to see these photos and feel more comfortable with the look.  It was fun to wear plaid, as that has not been a wardrobe staple for me in the past.  I had to stretch my choices slightly here.
Thanks Two Birds for the inspiration!