Lunch at Panda Inn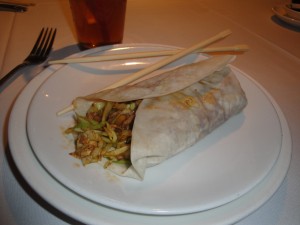 Yesterday, all three boys and I went to Panda Inn at Horton Plaza for lunch.  I had high hopes, because when I had been there previously, my experiences had been very good.  Steve said he didn't remember that he had ever been there before, and the boys definitely never had.  We started off with the Mu Shu, pictured above.  All of us really liked it, even Alex, who doesn't always enjoy his vegetables.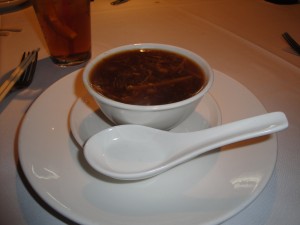 This is the Hot and Sour soup.  Steve and I always get the same soup when we eat Chinese food, because we enjoy it so much.  The trouble there, is that we have become very picky about our Hot and Sour soups.  This one was just average.  It wasn't particularly bad, just not really good either.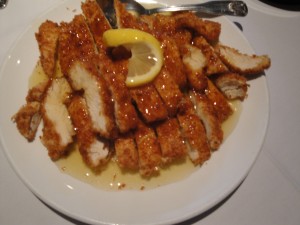 The Lemon Chicken was the star of the meal.  Everyone thoroughly enjoyed it!  The chicken was tender and juicy, with a crispy crust.  The sauce was tart, with just a little sweetness.  Yum!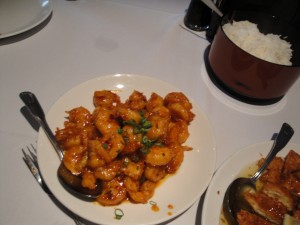 The shrimp dish, (the name of which escapes me today) was good, but like the soup, not fantastic.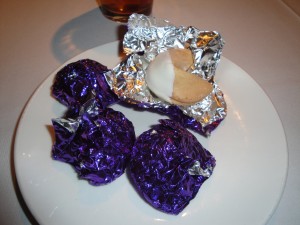 Finally, the fortune cookies!  They are almost worth the visit to Panda Inn.  They come wrapped in gorgeous purple tinfoil, but the inside is still the best part.  They are dipped in white chocolate!  Normally, I am not the biggest white chocolate fan, but it seemed to work really well with the cookie.  Alex was tyring to eat every one's cookie because he liked them so much.